Saturday, July 2
Arrived at O'Hare at 5.45 PM. Took the Blue Line train to Downtown Chicago which took about 45 minutes. Be prepared for a bumpy ride in the old-fashioned and noisy trains. We got off at Clark/Lake and walked the last short part to our hotel, Renaissance Chicago Downtown Hotel, at 1 West Upper Wacker Drive. We were amazed by all the skyscrapers and lights surrounding the hotel. It has a great location right by the river and in the middle of everything. Max was (as always) hungry and we went out to get something to eat. We ended up at Parlor Pizza Bar River North where we split two pizzas and tried a beer from a local brewery.
Sunday, July 3
We woke up early as you usually do when you travel west with a time difference of seven hours. Linnea had read about a nice place where they served good breakfast so we walked a few blocks to Pittsfield Café in the Pittsfield Building at 55 E Washington Street. I ordered French toast with bacon and maple syrup and the others had the "2-2-2 Special" (two eggs, two pancakes, two strips of bacon). We also shared two bagels with cream cheese. Everything including the coffee tasted really good.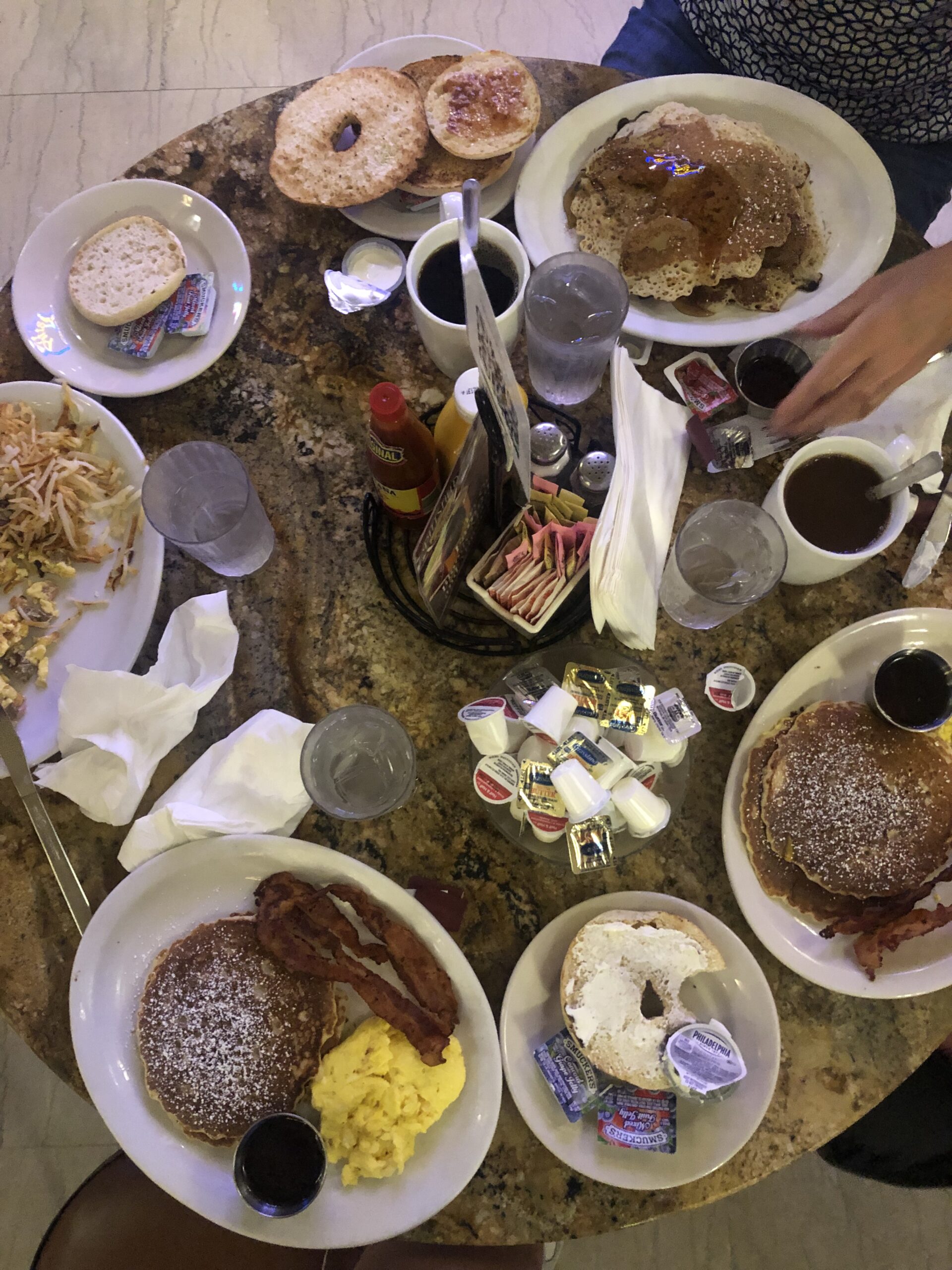 After breakfast we went to Millennium Park and took pictures of ourselves under and next to the Bean (Cloud Gate). It was a smart thing to go there in the morning before the crowds arrived. Afterwards we bought tickets for the Lake and River Architecture Tour at Wendella Tours and Cruises. It was located across the river from our hotel but there were several other companies offering architecture tours.
Before the tour we had a couple of hours when we explored the city by visiting the interesting "McCormick Bridgehouse & Chicago River Museum" (free admission on Sundays). We walked along the river on the nice River Walk to Lake Michigan and then on the other side back where we also had lunch at "Chicago Burger Company".
The name of the boat we went on was Linnea! Our guide was very good, a real entertainer. He told us about the history of the city, buildings and skyscrapers as we went on the river and out on Lake Michigan. The weather was sunny and hot so we had to buy both sunscreen and water in the café onboard.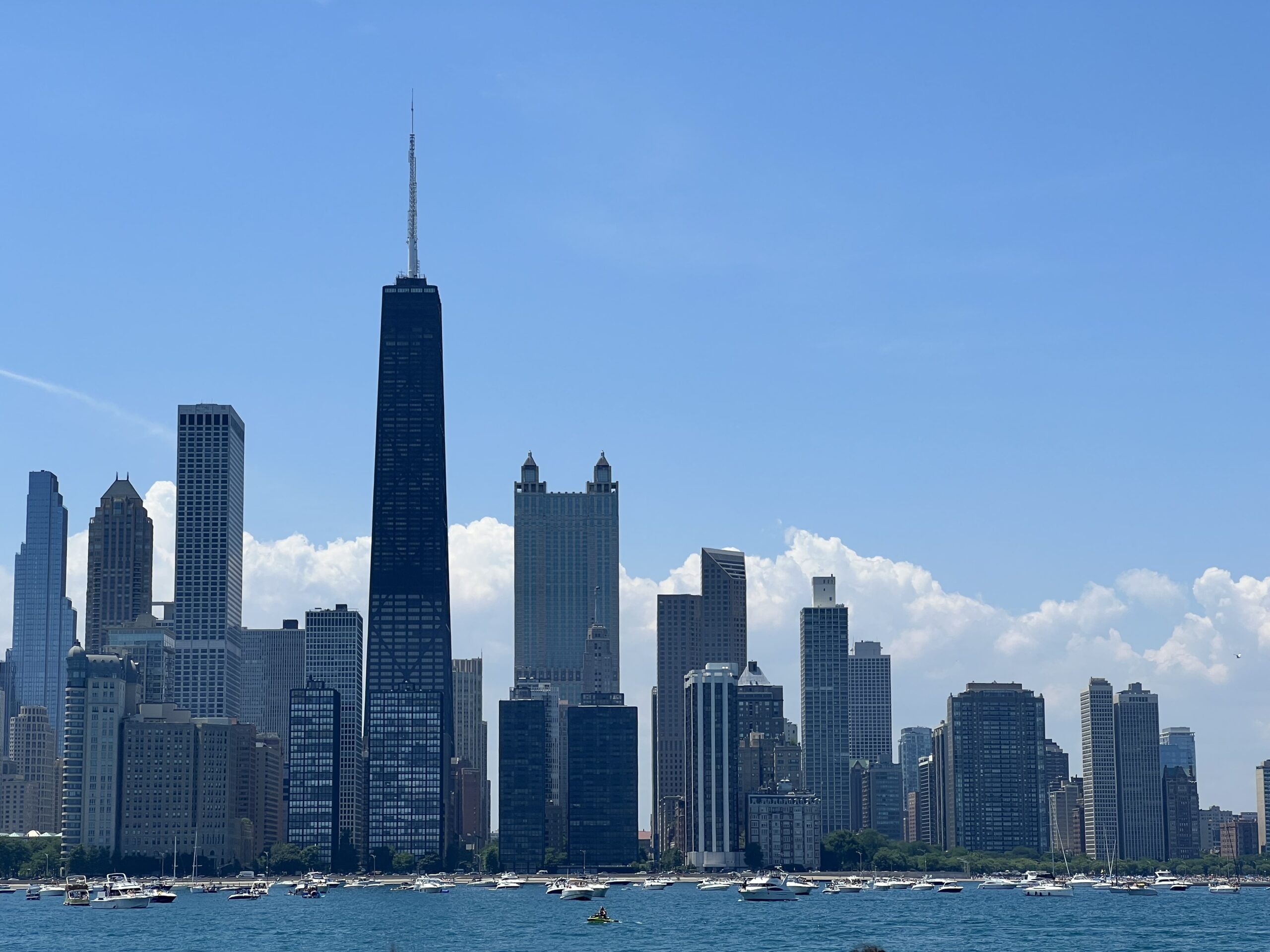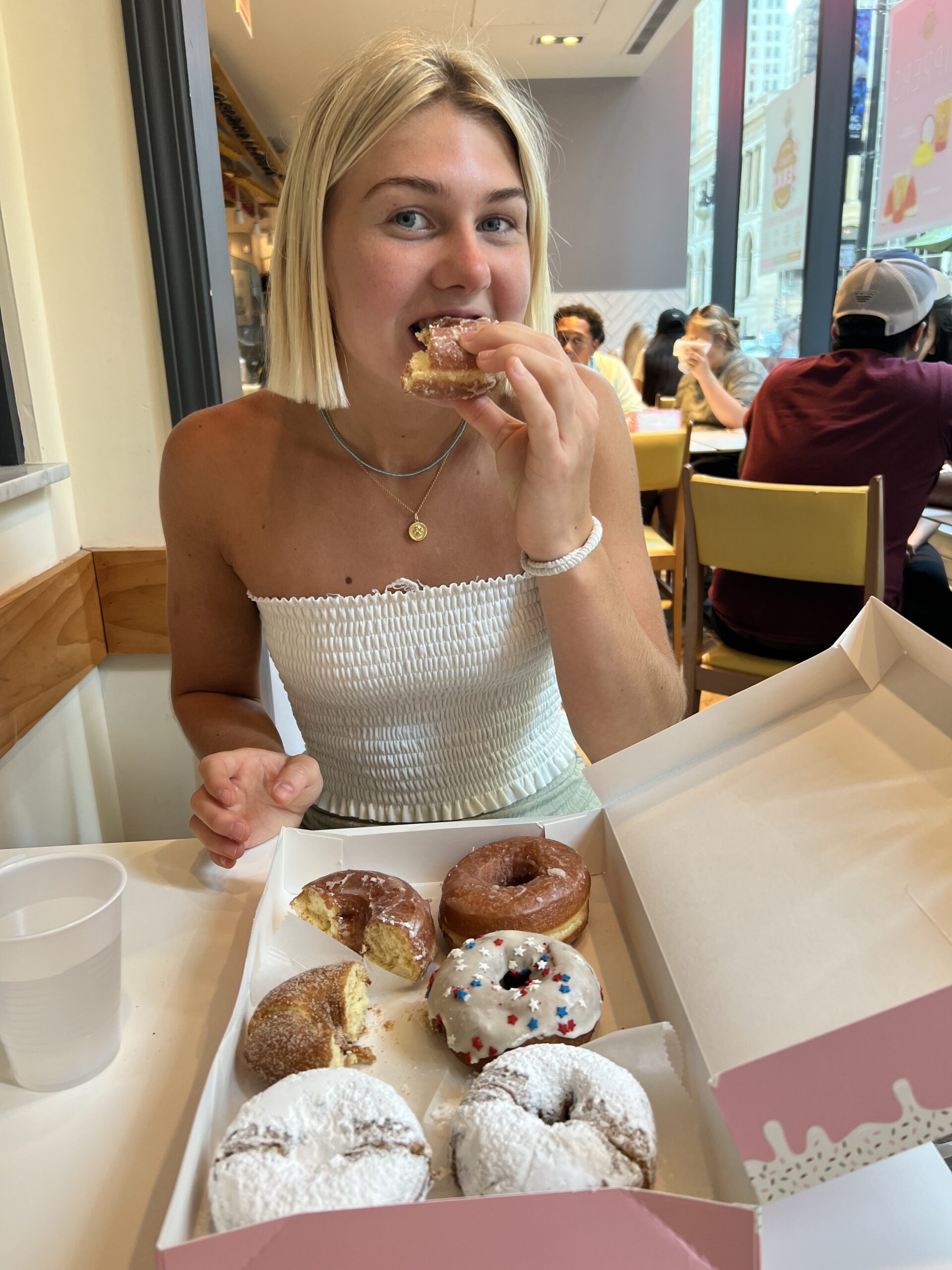 After the tour we went to T-mobile and exchanged my SIM card to a 50 GB prepaid SIM card that I could use during our stay in the States. It cost 62 dollars including tax. We felt that we needed that in order to use Google Maps and to look things up. On our way back to the hotel we stopped for a coffee and donuts at Stan's Donuts and Coffee on Michigan Avenue.  We also bought popcorn (Garrett Mix: cheddar and caramel) at the Garrett Popcorn Shop next doors. They were ok but we never finished the bag…
In the evening we went to Portillo's Hot Dogs at 100 W Ontario Street. It's a place you don't want to miss if you visit Chicago. Linnea had a hotdog with chopped onions, tomatoes and more on top. Max and Krister had Italian beef sandwiches and I had a Beef-n-cheddar croissant. We were not impressed by the food but the beer was excellent since it was served in big, thick, ice-cold glasses.
After dinner we continued our evening walk to Navy Pier. There is a small amusement park and some restaurants. It was nice but it felt like a place we wouldn't visit more than once. We ended the night by walking along the river to Art on the Mart which is a digital art projection on the building's river façade.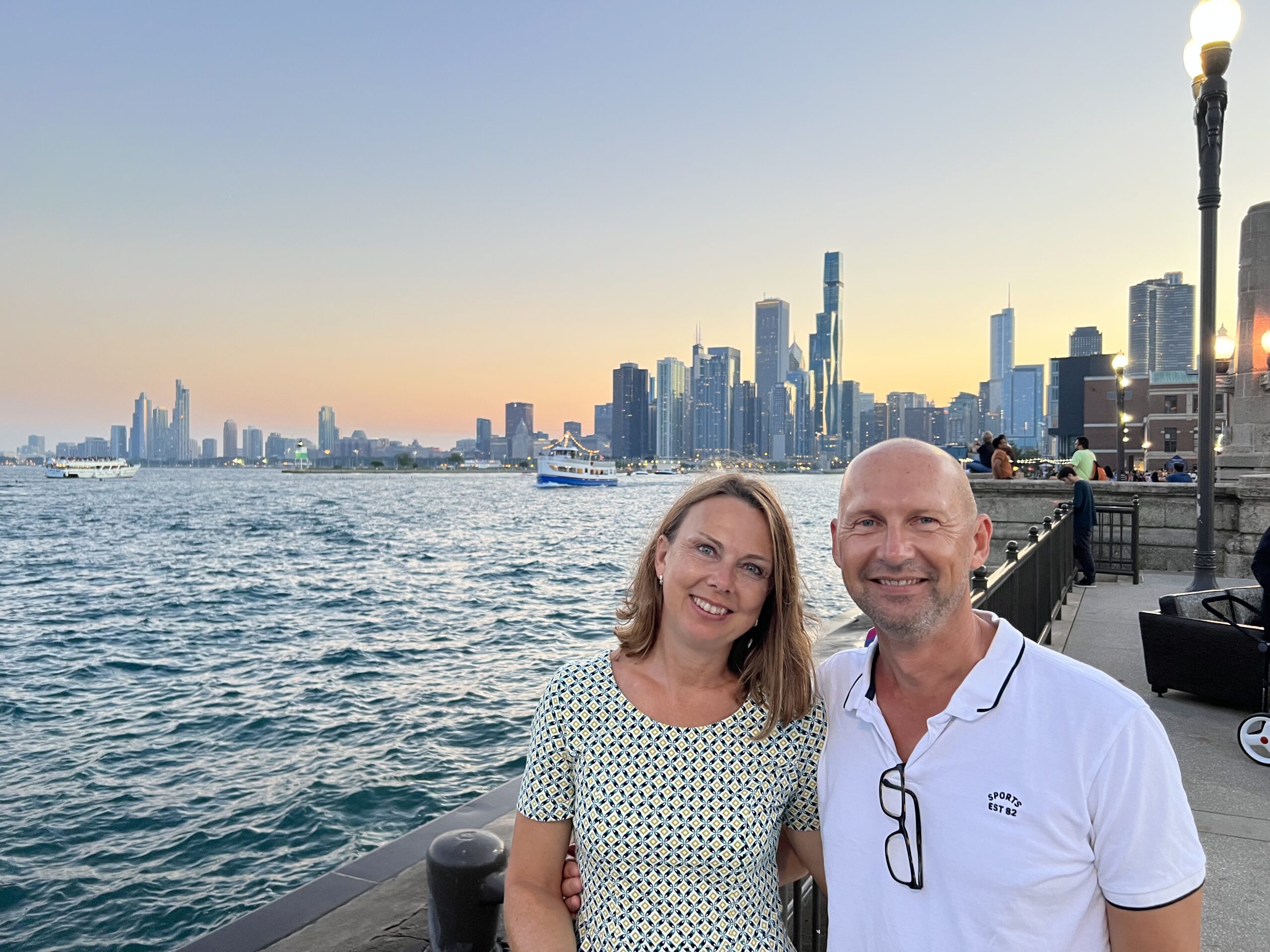 Monday, July 4 (Independence Day)
We had breakfast at Pittsfield Café again and this time I had Apple pancakes. Afterwards we took a walk to Willis Tower (former Sears Tower). Between 1973 and 1998 it was the highest building in the world. We never went up for various reasons. We continued our city walk but on our way to the big Buckingham Fountain I lost both my credit cards. I probably dropped them while I was taking pictures. I blocked my cards and was "cardless" the rest of the trip.
We visited the Art Institute of Chicago where we saw many famous paintings. It was very cold in the museum so it was a relief to step out in the warm air outside. We had lunch at Sweetgreen at 150 N Michigan Avenue. The salads were good and to balance our healthy lunch we walked over to Magnolia Bakery at 108 N State Street.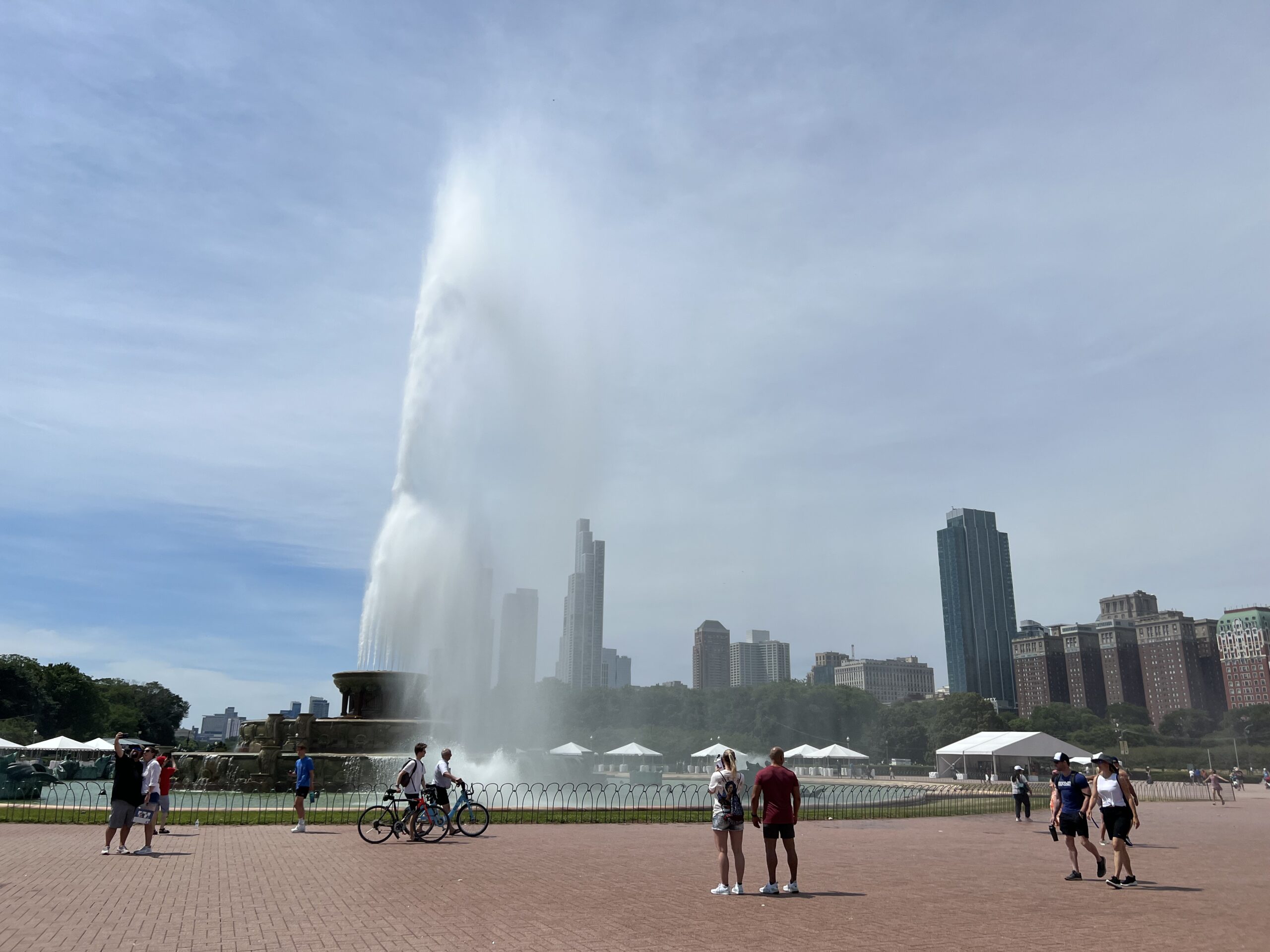 When it was dinner time we headed over to Lou Malnati's Pizzeria at 410 North Michigan Avenue. It is a popular place, known for its deep dish pizza. We had to wait for a while to get a table and the restaurant was very busy. The pizzas were more like pies and we all thought it was a fun experience although we prefer regular pizza. From there we walked down the Magnificent Mile (Michigan Avenue) to the high John Hancock Building and back.
Tuesday, July 5
This morning we had a quick breakfast at McDonald's before we packed our bags and checked out. We ended our stay in Chicago with tacos and beer at Chicago Brewhouse on the Riverwalk near our hotel.
Friday, July 15
After our 10-day-roadtrip we had one more night in Chicago. This time we stayed at the Westin Michigan Avenue. The view from our room was very nice next to the 100-storey high John Hancock Center.
It was raining so we decided to go to Macy's and grab a burger at Shake Shack on our way there. Opposite Macy's, Linnea found a fun store, Akira, where she got a lot of friendly help and bought a dress, high heels and a baguette bag. Linnea and I got back to the hotel before Max and Krister so Linnea went to the gym and I had a cup of coffee while I admired the view from our room. When I went to the bathroom and took a shower, I felt pure happiness. Ten days of mostly using the campground's toilets and showers were over.
At 8 PM we had booked a table at a highly rated Italian restaurant, Francesca's on Chestnut. It only took us a couple of minutes to walk there and it truly was a nice restaurant with very good food. Both Max's meat and our pasta dishes were excellent.
Krister, I and Max went up to the Signature Lounge on the 96th floor of the Johan Hancock building. Max just took a quick look at the magnificent view of the city and then went down to Linnea again. She wasn't allowed to even go up there since she is younger than 21. Krister and I had a drink and I went twice to the restrooms because you had the best view from there.
Saturday, July 16
We were supposed to fly home with SAS at 10 PM so I had plans for us to rent bikes and explore the Gold Coast, Andersonville and Lincoln Park. But the SAS pilots were on strike and we were booked to go home via Istanbul with Turkish Airlines at 11:30 AM instead. We were a bit disappointed and had even hoped for an extra day and night in Chicago.