Tuesday, July 5
After three nights in Chicago we were ready for the countryside. We booked an Uber which took us to the place where we would pick up a rental RV (a motorhome) from Cruise America https://www.cruiseamerica.com/rv-rental-locations/illinois/chicago-ohare-area . It wasn't ready when we got there at 2.30 PM so we had to wait a while before we could hit the road. Finally, we were on our way to our first stop in Galena, Illinois. We heard warnings about a severe thunderstorm and the clouds were black when we reached Galena after almost three hours.
We had booked our first night at Palace Campgrounds which was conveniently placed next to a Walmart where we stopped to buy groceries, pillows and other necessities. When we reserved the RV from Cruise America, we also reserved a kitchen kit but not a personal kit. We brought sheets, duvet covers, pillowcases and towels from home. The thunderstorm didn't reach Galena until we were settled and it never got very bad.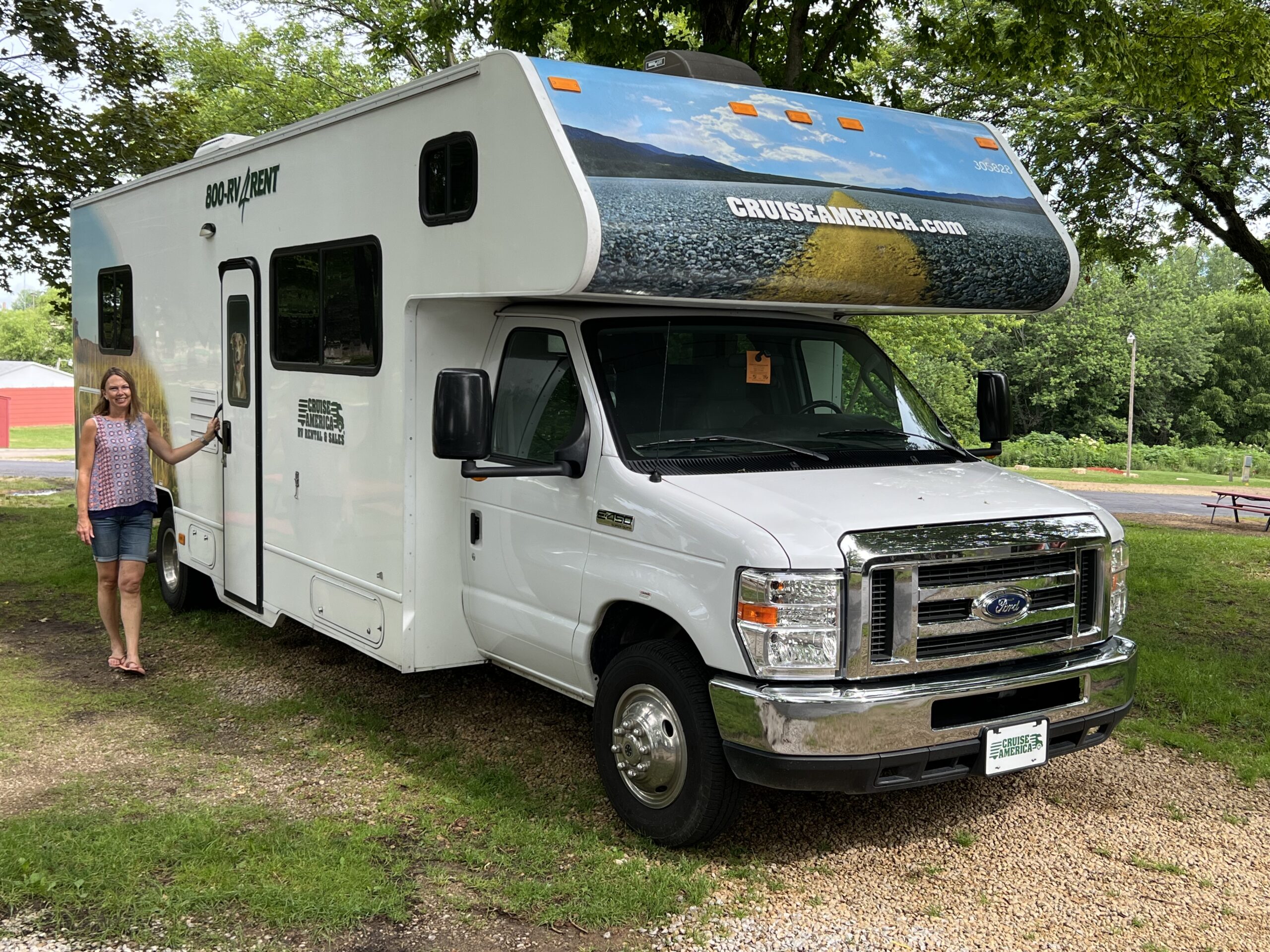 Wednesday, July 6
After an okay night's sleep we had English muffins for breakfast. The campground was nice and we took a walk before we checked out. We drove into Galena where we parked close to Ulysses S. Grant's home. He led the Union Army to victory in the American Civil War (1861-1865) and he was also the country's 18th president. There were guided tours but we decided to take a walk in town instead. There are many historical buildings, nice shops and restaurants. Krister and I had a really good seafood chowder at Embe Eatery and Lounge on Main Street. Galena is well worth a visit!
The next charming town on our itinerary was Lanesboro in Southeastern Minnesota. On our way there we saw more cornfields than we knew existed and we had our coffee stop by the Mississippi River. We had two nights reserved at Highway 250 Campground, located right by Root River and a short walk from historic downtown Lanesboro.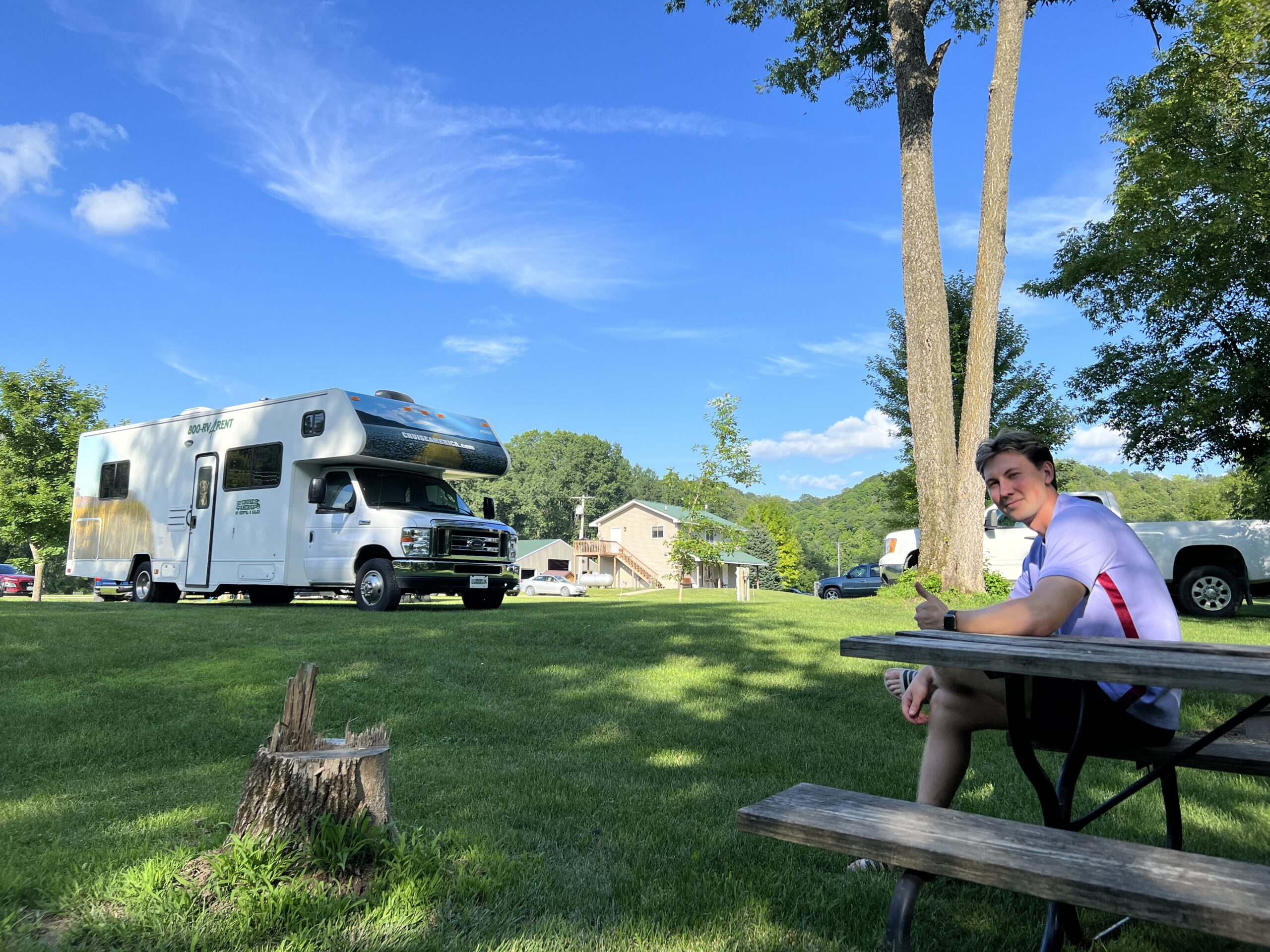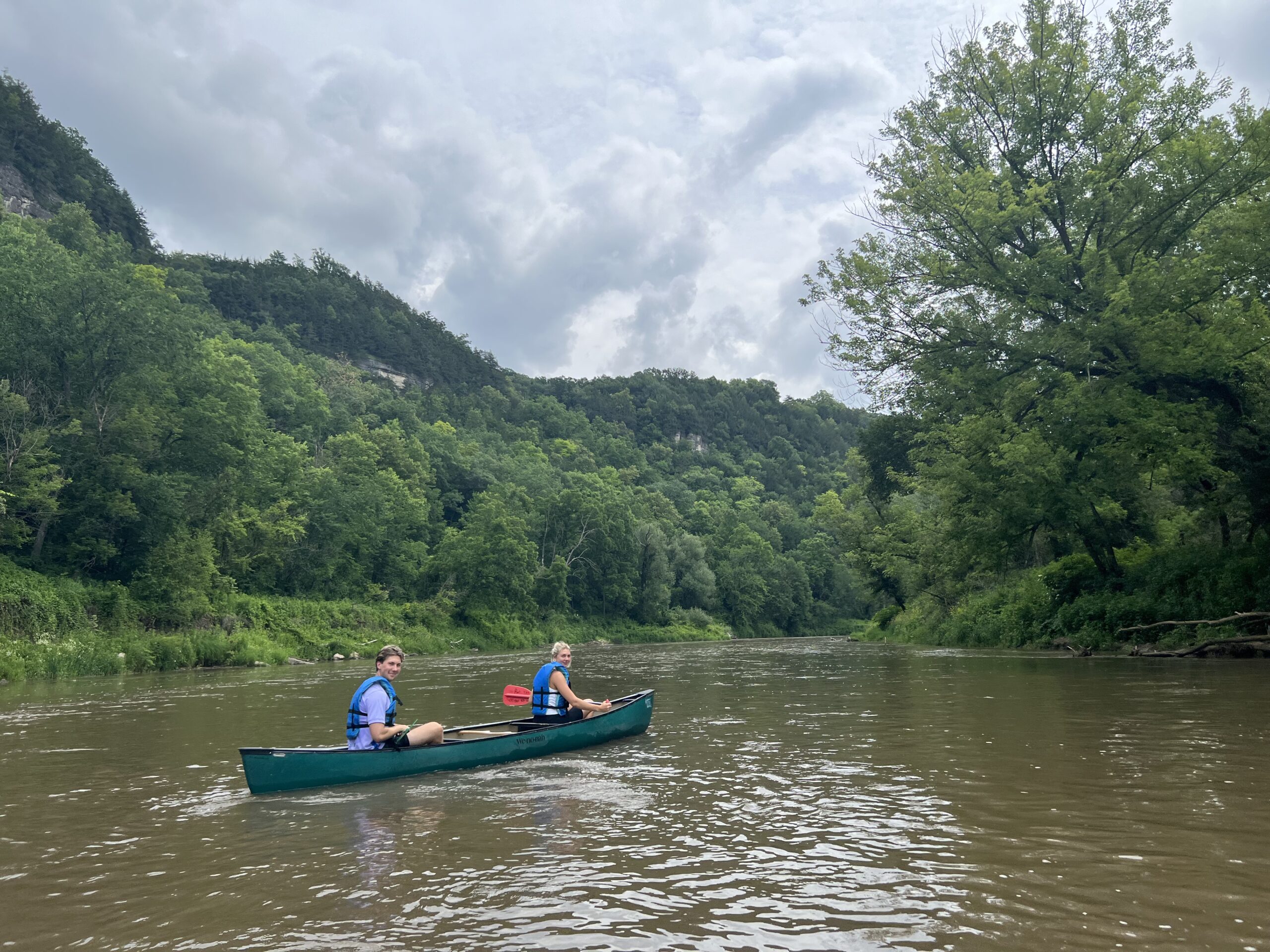 Thursday, July 7
It was a beautiful morning and we asked about renting kayaks. A man of Norwegian origin showed up https://riverratsoutfitters.com/  and recommended us to rent two canoes instead because of the strong current. So we did and we had two fun hours on Root River.
After lunch we took a walk in Lanesboro, had ice cream and played basketball. The Root River Trail System goes through Lanesboro attracting many cyclists. Max and Krister ate their dinner at Pedal Pushers Café while I and Linnea ate mac'n'cheese in the shade by the motorhome. There were too many mosquitos after dark to have a campfire…
Friday, July 8        The morning was rainy as we left the beautifully located campground. We had downloaded an Amish tour guide http://www.amishbackroadstour.com/ that started in Lanesboro. It took us around the countryside with stops at Amish farms where they sold handmade items such as baskets, quilts and furniture.
We stopped at two farms where we talked to some of the people living there and bought baskets, candy and honey. The third farm we visited was big and more commercial so we just bought some bread and cakes. The tour guide also told us about the Amish culture and history including the important information that you are not allowed to take pictures.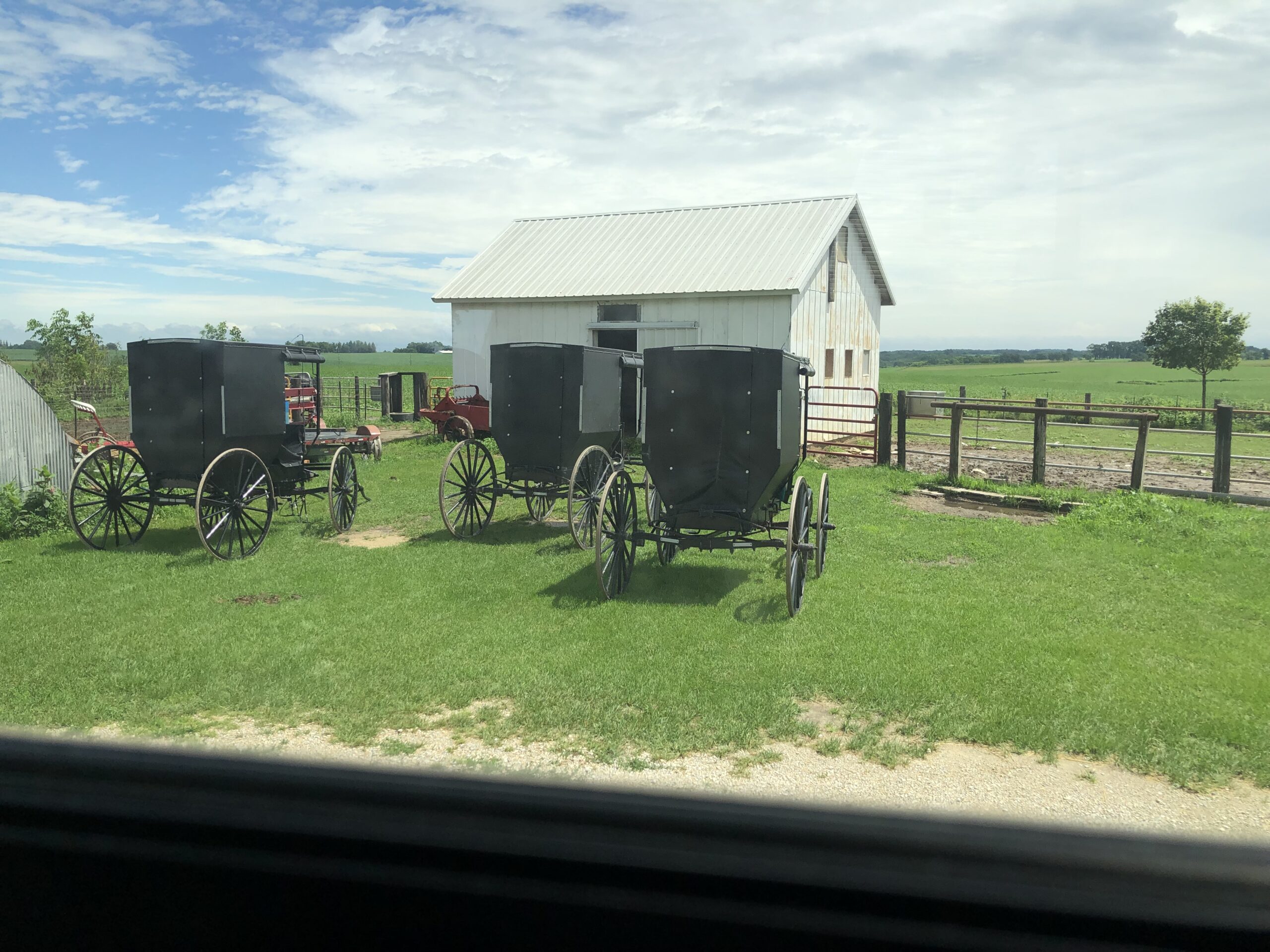 Our next campground, Lebanon Hills Campground, is located just south of the Twin Cities (Saint Paul and Minneapolis) but we didn't go straight there. Instead, we headed for the Mississippi River again and followed it on the Wisconsin side (route 35) from Winona. On the way to Winona we stopped for lunch at Creamery Pizza & Ice Cream in Rushford.
Route 35 was beautiful and we drove through the picturesque village called Stockholm and stopped in Pepin to visit the Laura Ingalls Wilder museum. When I was little I read all the books she wrote about her life as a pioneer child. During our vacation I even listened to the second book, The Little House on the Prairie.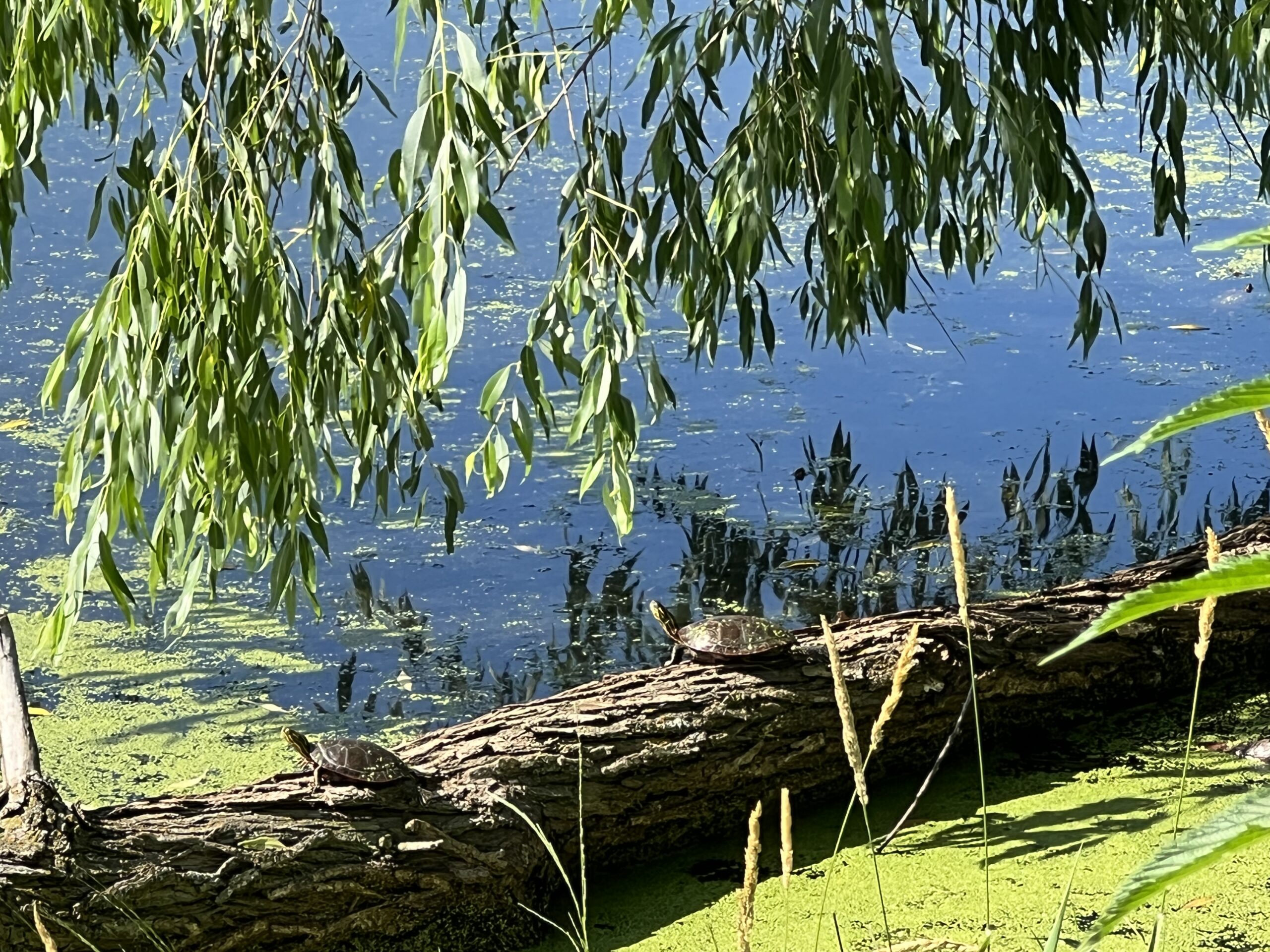 Saturday, July 9
Since Lebanon Hills Campground is located in the middle of the beautiful Lebanon Hills Regional Park with woods, lakes and lots of trails we decided to start our day with a walk. We walked around Wheaton Pond where we saw many turtles.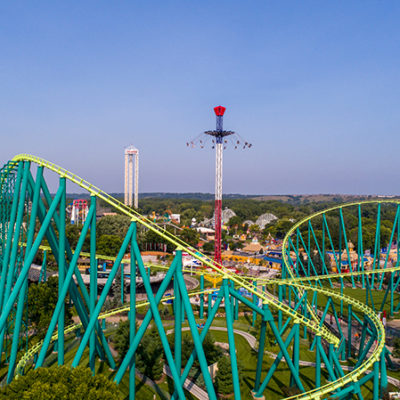 After a quick lunch we drove 45 minutes to Valleyfair Amusementpark https://www.valleyfair.com/ 
Since it was a sunny and hot day, we started out in the part called Soak City Waterpark. About three hours later we moved on to the roller coasters. The lines were long so we only went on three rides (Corkscrew, Excalibur, Renegade) but they were really fast and fun. All rides were included in the admission.
Sunday, July 10
Today all four of us powerwalked and ran 8 km in Lebanon Hills Regional Park https://www.co.dakota.mn.us/parks/parksTrails/LebanonHills . It was a great way to see more of the green and lush park. After a shower we drove 15 minutes to the largest shopping mall in the country: Mall of America https://www.mallofamerica.com/ The first thing we saw as we entered was the amusement park in the middle of it all. After lunch on the third floor we split up so Linnea and I spent two hours shopping on the first floor. Well, not a lot of shopping because one dollar at this point was 10,50 kr. In the evening we had our first campfire and grilled chicken.
Monday, July 11
We left the Twin Cities (Minneapolis and Saint Paul) behind and drove north. Our first stop was Chisago City where we stopped to take a picture of the statue of Vilhelm Moberg. In the summer of 1948, he biked around in the area collecting material for his four novels called The Emigrants (Utvandrarna), Unto a Good Land (Invandrarna), The Settlers (Nybyggarna) and The Last Letter Home (Sista brevet till Sverige).
The next stop was Lindström where there is a statue of Karl-Oskar and Kristina, the main characters in Vilhelm Moberg's novels. A similar statue can be seen in Karlshamn in Sweden.
Lindström is the best-known Swedish town in America with its many Swedish names, a giant coffeepot with the text "Välkommen till Lindström" and other traces of Swedish settlers.
We continued up to Duluth on Lake Superior and from there we took the North Shore Scenic Drive up to Grand Marais. On our way we stopped at Gooseberry Falls where we took a short walk to the waterfalls. Our next stop was Northwoods Family Grille in Silver Bay where we had their delicious ribs with blueberry BBQ sauce. We were not disappointed… and their rhubarb pie was not bad either.
As usual we arrived later than planned at our destination and this time it was the big and crowded campground in Grand Marais. It was not as calm and cozy as the other campgrounds we had stayed at and the people working here were not as friendly either. The surroundings were beautiful though and we strolled the pebble beach at sunset.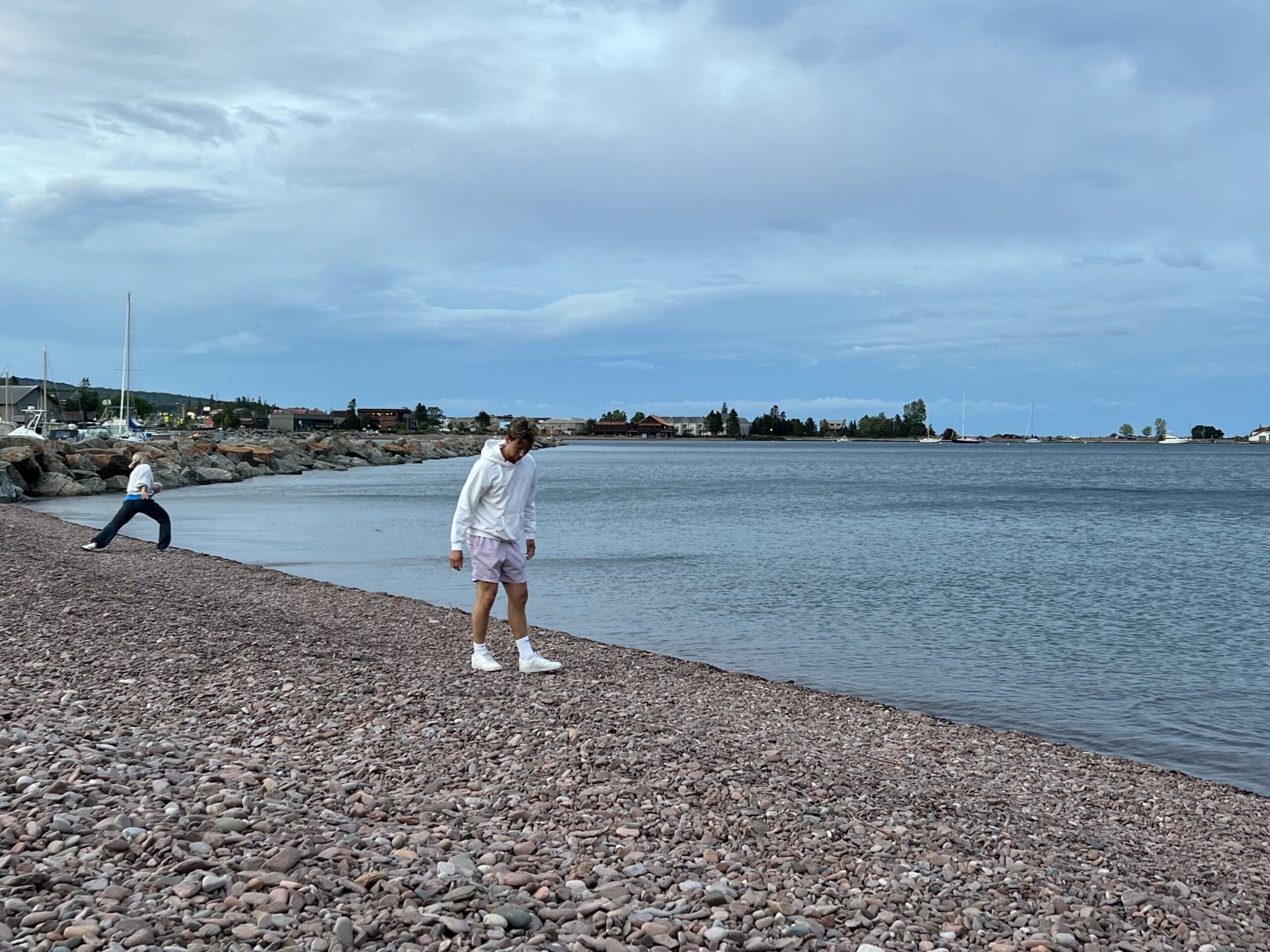 Tuesday, July 12
It was a chilly but quite sunny morning. We decided to explore Grand Marais and walked around the harbor, out to Artists' Point, to the lighthouse and around town. We had really good fresh fish and chips and locally brewed beer at The Fisherman's Daughter. As we enjoyed our meal on the deck, the fog started coming in and after a while we couldn't see the lake any more.
When we came back to the motorhome, it started raining and it rained all afternoon. It was freezing cold and we decided to cancel our third night and go south again. When we planned the trip we didn't realize that it could get this chilly… The rain finally stopped and we walked to Putt-n-Pets Mini Golf. It was very nice and the goats were hilarious. Back at the campground we enjoyed a warming campfire and grilled hotdogs.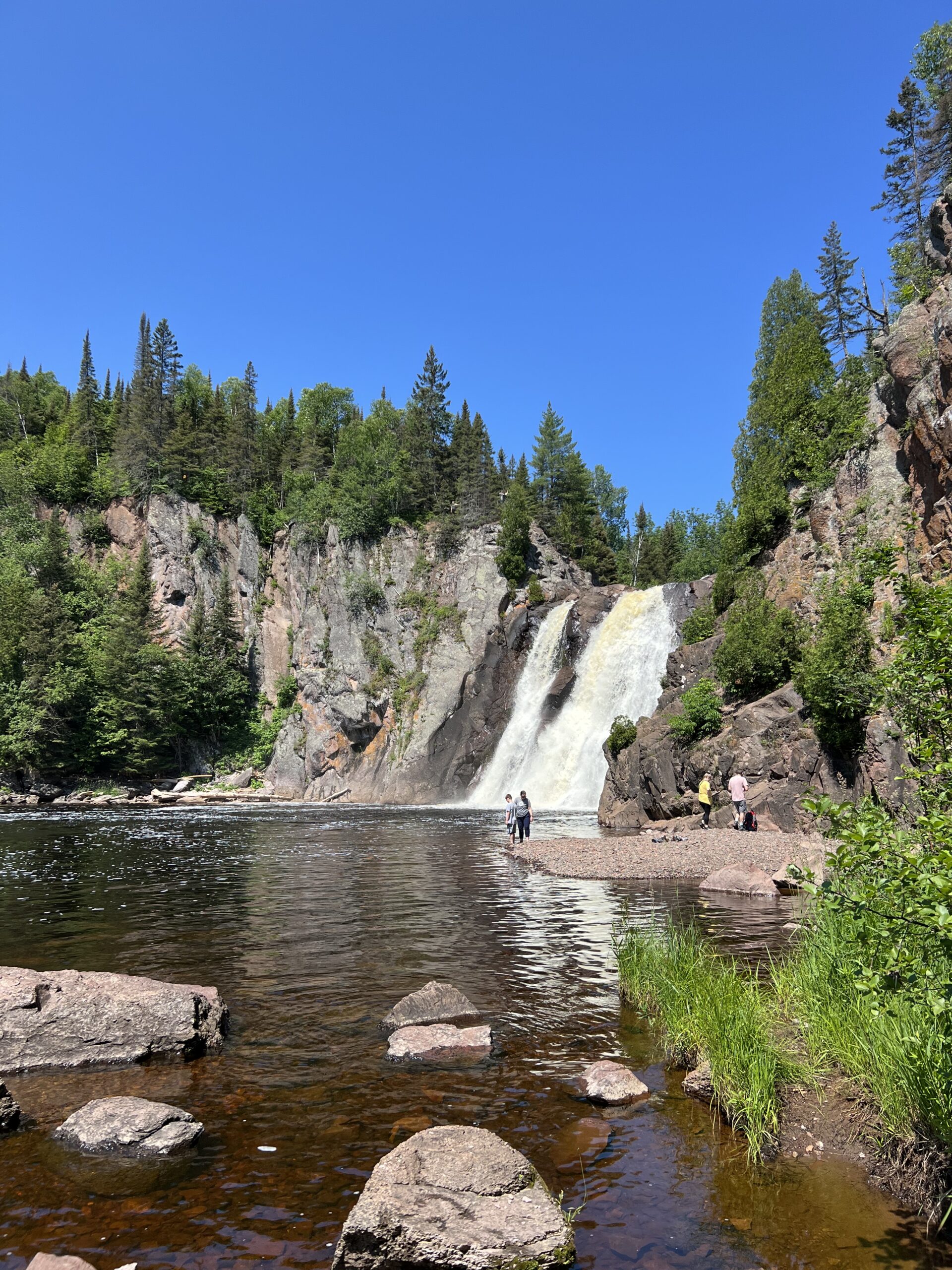 Wednesday, July 13:
Another chilly morning but the sky was blue as we left Grand Marais and drove south along Lake Superior.
We stopped at Tettegouche State Park where we hiked to the High Falls of the Baptism River. It is the tallest waterfall entirely within Minnesota's state boarder.
A roundtrip including stops at both the High Falls and the Two Step Falls took us about 90 minutes.
We drove a little further south and stopped at Split Rock Lighthouse, one of the most photographed and visited spots in the state.
We paid 8 dollars/person for Grounds passes just to be able to walk up to the lighthouse and to the beaches. General admission of 12 dollars include access to the lighthouse and the keeper's house.
Our final stop at the North Shore Scenic Drive was the popular Rustic Inn Café. We bought four slices of pie to go, but none of them were fantastic…
At around 5:30 PM we arrived at the Log Cabin Resort in Trego, Wisconsin. The couple who ran the place were superfriendly and helpful. The campground was nicely located on Namekagon River but next to both route 53 and highway 63. The place was popular for tubing down the river and for canoe / kayak trips.
Thursday, July 14
We slept late and enjoyed the sunny morning before we hit the road. Not much happened along the way through Wisconsin.
Instead of stopping at some fast food restaurant, we drove into Eau Claire and had brunch at The Nucleus. Their Lemon Ricotta Hotcakes and Breakfast Burrito were well worth the detour.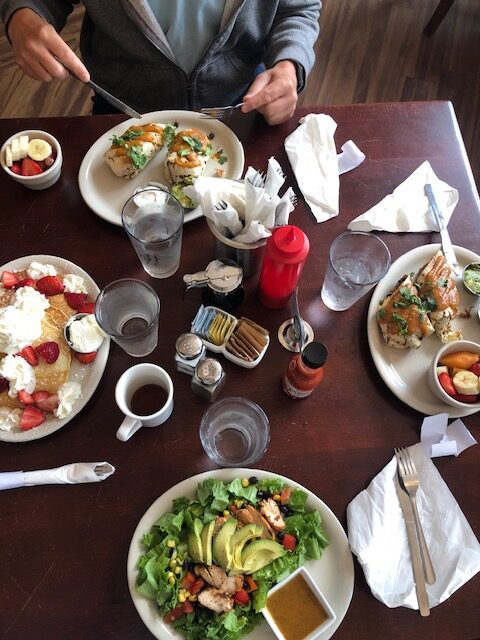 As we finally arrived at our last campground of the trip, I had to confess that I'm a time optimistic person. We always seemed to arrive two hours later than I had expected. This time we were really lucky to even get a site at Sycamore RV Resort. The office was already closed but the man in charge was still around but said that we had no reservation since we hadn't paid in advance. He managed to give us a nice site with water and electricity anyway. It was a modern and well-kept campground with a nice trail around some ponds where you could both go fishing and swimming.
Friday, July 15
We got up early to clean the motorhome before returning it. It was raining which made it a bit harder but with eight hands we managed to get the job done quite fast. There was no point in stopping somewhere to get a car wash since it was constantly raining. Before we left Sycamore RV Resort, we filled up the propane tank. The motorhome was to be returned at 11 and we got there at 10:40. 
To sum it all up, it was a great trip! We had a lot of fun and experienced so much. If we had had more time, I would add one more night in Lanesboro to bike the Root River Trail and one or two more nights in Lebanon Hills to explore the Twin Cities (Minneapolis and Saint Paul). Perhaps we should have skipped Grand Marais and stayed further south on Lake Superior.